Commissioned MoCap
Hacktop Studios offers a unique motion capture service that allows you to commission the actions you need without having to rent studio time or provide your own actors. Not having to be in our studio or rent your own studio means you can use our services from anywhere in the world. Even if you are local, with certain health and safety precautions, this can be an alternative to safely getting the motions you need without having to come into the space.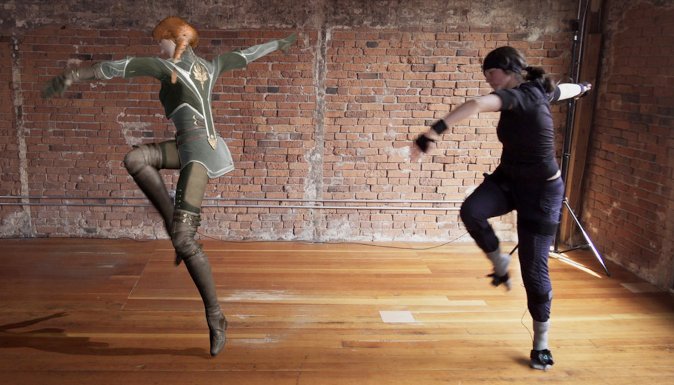 RECORD ANYWERE
Pay only per action not per hour.
Review 3 takes of each action as proofs before selecting/paying
Select the level of recording you need. Body, hand and/or face tracking
No need to be in the Seattle area
COVID safe
RAW FBX/GLTF 2.0 FILES
FBX is an industry standard and is supported by all major animation platforms such as Maya, Blender, Unreal, Unity and Godot. We also include the open GLTF 2.0 standard
MIXAMO COMPATIBLE ARMATURES
We convert all motion captures into the Mixamo armature to make it easy to implement and re-rig.
MULTIPLE TAKES
We do three takes of any action you request. You select the one you like best and only pay if you are happy with the result.
RE-USE DISCOUNTS
If you allow us to re-sell your recorded action you can get the setup fee waived. $100 value!
CONSISTENT PIPELINE
All motion captures go through our same re-rigging pipeline that outputs the same quality and naming conventions every time, regardless of MoCap equipment used.
FOSS SUPPORT
We support and actively contribute to the Free Open Source Software (FOSS) community. Including tools and patches to open source projects like Blender and Godot.
Sample Pricing
Commissioned 
Estimates
Costs are based on the type of equipment you need. You can mix and match equipment, for instance maybe you need full body and hand tracking. An estimated cost would be to add the two categories below. Note these are just estimates, depending on special needs these prices can be higher (ie. require gymnastic equipment)